Soft Rafting
Upcoming availability
I'm searching...
All availabilities
Prices
Duration

:
4 hours (2 in the wa
Description
This path aims to create moments of connection and fun for all families who wish to experience an exciting adventure together.

For this experience, specially designed for families who want to enjoy the river in a safe and fun way, we have chosen a stretch of river that offers calm currents and controlled rapids, creating the 'perfect environment for an exciting descent suitable for all ages.

Safety is our top priority. Our highly trained instructors will provide you with instruction and guide you through paddling techniques, ensuring a safe experience for all participants. In addition, we will provide you with the appropriate safety equipment, such as life jackets and helmets, to ensure complete protection throughout the entire adventure allowing you to overcome challenges together, encouraging and supporting each other along the way .

Monrosa Rafting is renowned for its professionalism and attention to detail. With years of experience in organizing rafting activities for families, schools and children, able to offer a personalized experience of a high standard that will meet all your expectations.

Get ready for a thrilling thrill and an unforgettable family adventure with our soft rafting. Be ready to laugh, have fun and create lasting memories as you immerse yourself in the world of the Sesia River. Monrosa Rafting is ready to welcome you for a day of fun, excitement and family unity.
Terms and info
The activity includes:

- Dressing up:
We' ll supply you with wetsuit, helmet, water jacket and life jacket.
You'll only have to bring swimsuit, trainers, woolen socks, long sleeves sweater either in wool or fleece and necessary for the shower (consider that everything will get wet) and hair dryer.
- Briefing on the shore about techniques and safety
- Descent of about 2 hours
- Coming back to our site by minibus
- Hot shower


NOTE: luckily our activities take place even in the rain (otherwise we would never work!). And rather, when it rains the descents are often more exciting. We stop only when it rains very hard and for a long time so that the river gets too dangerous. It happens very rarely, but if it happens we inform the participants as soon as possible and agree to postpone the activity or to cancel it, giving back the deposit already paid.

PAYMENTS: we accept cash and cheques. We are sorry but we are NOT equipped to accept CREDIT CARDS.

We kindly ask you not to consume alcohol or drugs before the activity so that we can guarantee its correct progress and safety. Thank you so much!

Necessary requirement: being able to swim
Minimum age: 8 years

Other activities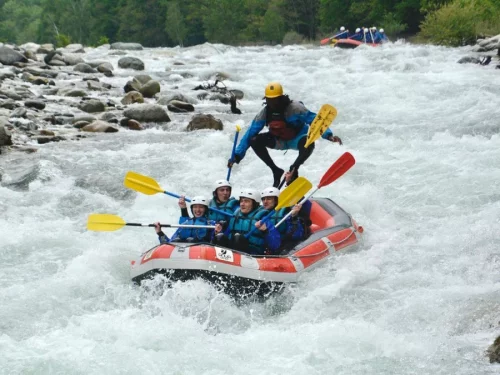 Classic Raftingis perfect for beginners, with expert guides providing safety and support along the way. We are a center recognized by the F.I.Raft. The ideal season is April to September.

I'm searching...
All availabilities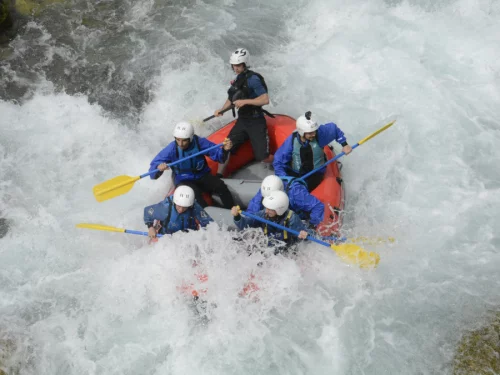 "Rafting Expert" is the ultimate adventure for rafting lovers. Overcome rapids at high speed along the Sesia. With our expert guides, get ready for an adrenaline-pumping and unforgettable experience !
I'm searching...
All availabilities