Hydrospeed
Upcoming availability
I'm searching...
All availabilities
Prices
From55.00€
Armed with a large "floating bob", fins and a wetsuit equipped with special protections, you venture into the rapids of the Sesia accompanied by our instructors, who teach you the fundamental maneuvers before setting off.
The Sesia offers all the elements necessary for an exciting experience with hydrospeed: clear water, suggestive landscapes and sparkling but not dangerous rapids.
The equipment is supplied by the Center and allows for perfect thermal stability.
You can choose between registering for a daily descent or for a course of two or more days. All Monrosa hydrospeed instructors are qualified by F.I.Raft.
Types of activities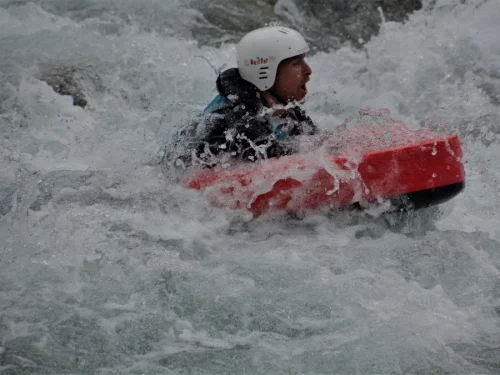 From Balmuccia to Vocca or from Vocca to Varallo among an infinity of very suggestive rapids with very which will certainly satisfy everybody, both beginners and experts.
I'm searching...
All availabilities